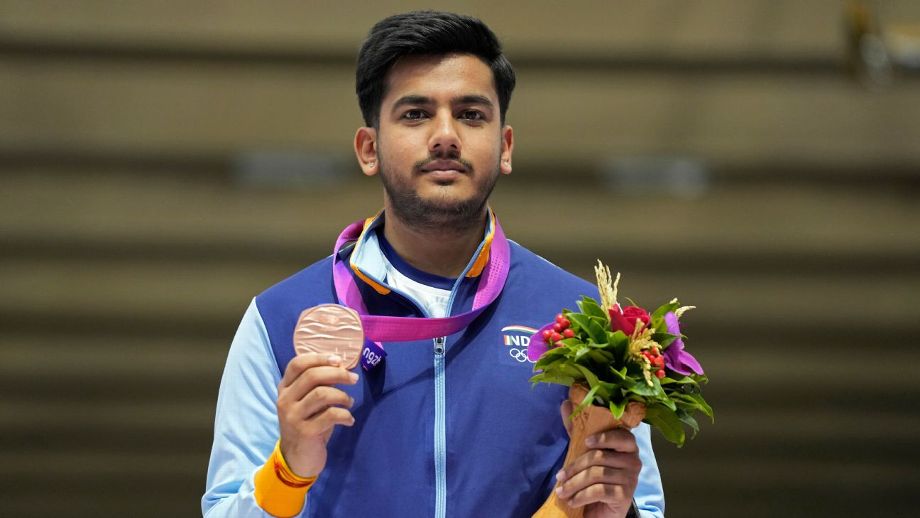 Aishwary Pratap Singh Tomar Clinches Asian Games Bronze in 10m Air Rifle
At just 22 years old, Aishwary Pratap Singh Tomar has already amassed an impressive collection of international gold medals over the past four years, including three solo senior World Cup golds in three different years and a junior World Championship gold with a world record. However, his recent bronze at the Asian Games holds a special place in his heart.
The bronze medal was secured in the 10m air rifle event, a discipline that is somewhat secondary to Tomar. His primary focus is on the 50m rifle 3 positions, where he has clinched the majority of his medals and represented India at the Tokyo Olympics. What makes this victory even more significant is how he outperformed his compatriot Rudrankksh Patil, a former world champion, and prevailed in shoot-offs against specialists in the 10m air rifle event. This particular category carries sentimental value for Indian sports fans as it was the event where Abhinav Bindra secured India's first individual Olympic gold medal.
While many rifle shooters compete in both disciplines, there is a substantial difference between the 10m air rifle and the 50m rifle 3 positions. The latter involves complex calculations, including assessing wind direction, time, and angles while shooting from kneeling, prone, and standing positions.
Tomar views competing in both events as an advantage. He stated, "Competing in two events is an advantage. If I don't do well in one, I can compensate with the other. If I do well in both, that is doubly good."
The qualifying round hinted at India's dominance, with three Indian shooters (including Divyansh Singh Panwar) securing a spot in the final and winning India's first gold in the team category. Panwar narrowly missed the final due to the rule limiting each country to two shooters.
The final itself became a thrilling duel between the two Indians, with China's Sheng Lihao setting a new world record. However, the bronze medal was still up for grabs between Tomar and Patil, and it came down to a battle of nerves. After a series of intense shots, Tomar held his nerve and clinched the bronze, adding another remarkable achievement to his burgeoning career.
This victory comes after a challenging Olympic cycle for Tomar, where he couldn't secure a Paris Olympic quota spot for India. Despite facing setbacks, he showcased his resilience and remarkable shooting skills at the Asian Games. With the 50m rifle 3 positions event on the horizon, Tomar has a chance to further elevate his medal count at the Games.
Given his current form and determination, Aishwary Pratap Singh Tomar is poised to make a significant impact at the Asian Games and may emerge as one of India's most successful athletes at the event.