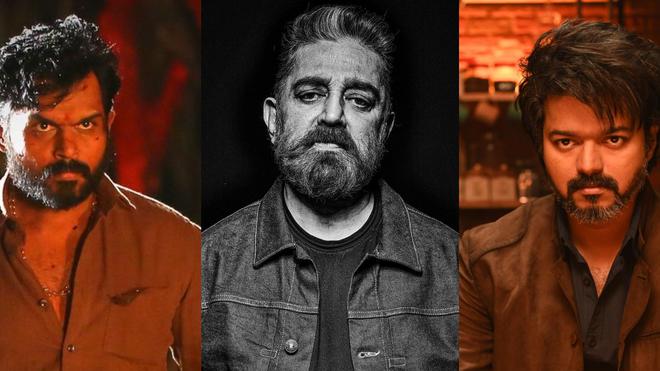 Decoding the Elaborate Lokesh Cinematic Universe (LCU) – Where Three Films Converge
The Lokesh Cinematic Universe (LCU) is swiftly emerging as a remarkable narrative experiment in Indian cinema. While most cinematic universes are synonymous with Hollywood, director Lokesh Kanagaraj is pioneering an intricate and elaborate universe that now includes three gripping films: "Kaithi," "Vikram," and "Leo." What sets the LCU apart is its subtle intricacy and how it subtly threads together multiple storylines, even reaching back to events that took place in the 1980s.
To truly appreciate the complexity of the LCU, we need to delve chronologically into the unfolding events:
"Vikram": The story kicks off with Vikram (Kamal Haasan), the former commander of the Black Ops squad's pilot batch. It takes us back to the events of the 1986 film of the same name. We learn that after a failed mission in 1991, the team was disbanded and presumed dead. This plotline serves as the foundation for the LCU's unfolding narrative.
"Leo": Set in 1999, "Leo" introduces the Das and Co. tobacco company, fronted by Antony Das (Sanjay Dutt), which serves as a cover for a new drug, Datura. Tragedy strikes as Antony's daughter is attacked and his son, Leo (Vijay), is presumed dead. Leo re-emerges as Parthiban in Himachal Pradesh, attempting to start afresh.
"Kaithi": In 2009, Dilli (Karthi) is imprisoned, a fact that becomes known in 2019 when we meet him in "Kaithi." He has been given a life sentence and, after ten years, is released in 2019 with four years off due to remission. Dilli, along with Bejoy (Narain), Napoleon (George Maryan), and others, secures a massive drug bust against Anbu (Arjun Das) and Adaikalam (Harish Uthaman).
Continuation of "Vikram": In the wake of these events, Prabhanjan is killed, and Amar (Fahadh Faasil) becomes the new Black Ops head. It's revealed that Prabhanjan's father, living under a new name, Karnan, is actually Vikram. Amar's quest for vengeance sets the stage for an escalating conflict.
"Leo" Sequel: "Leo," set in 2021, witnesses Parthiban defending his café against gangsters, leading to the unraveling of his peaceful life. He receives protection from Constable Napoleon, fresh from the events of "Kaithi." Parthiban's resemblance to Leo attracts the attention of Antony and his gang, eventually unveiling the truth about his identity. The film concludes with Parthiban receiving an invitation from Vikram, signifying the vigilante team's resurgence.
What's truly fascinating about the LCU is the thread that runs through all these films—the battle between a team of vigilantes and the ruthless drug cartel led by Rolex. As Lokesh Kanagaraj himself puts it, the LCU is "an action-packed universe whose heroes are loud about their message towards a drug-free society."
While the narrative threads have unfolded across these three films, the intricate universe has laid the groundwork for potentially exciting future installments. Kanagaraj's commitment to expanding the LCU is evident in his announcement that "Kaithi 2" is in the works, likely a prequel explaining how Adaikalam and Dilli were connected before the events of "Kaithi." Following this, "Rolex" may provide insight into the cartel leader's rise during the early '90s and his plans post-"Vikram."
The LCU holds the promise of even more thrilling stories, potentially offering sequels to "Vikram" and "Leo." As it continues to unfold, the future of this cinematic universe remains a compelling journey filled with action, intrigue, and a shared message of taking a stand against the drug trade. Lokesh Kanagaraj's LCU is a testament to the evolving landscape of Indian cinema and the potential for captivating storytelling in the years to come. With every installment, it becomes clear that the LCU is just getting started, leaving us eager to see what lies ahead in this ever-expanding universe.