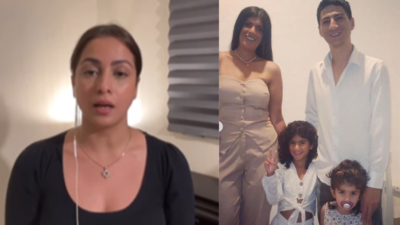 Tragedy Strikes: Naagin Actor Madhura Naik's Sister and Brother-in-law, Victims of Brutal Violence in Israel by Hamas
As the conflict between Israel and Hamas continues to escalate, the devastating toll on both sides of the border has left families grieving the loss of their loved ones. This latest bout of violence, characterized by "shock and awe" attacks by Hamas, has claimed over 3,000 lives as the conflict enters its fourth day.
Amid a barrage of attacks from both Hamas and Israel's relentless operation aimed at gaining "full control" of Gaza, stories of brutality against innocent civilians are emerging.
Madhura Naik, a well-known Indian TV actor and a Jew of Indian origin, recently shared a heart-wrenching personal tragedy. In a video message posted on Instagram, she revealed that her cousin sister and her husband were tragically murdered in front of their children. "The grief and emotions my family faces cannot be expressed in words," she stated. "As of today, Israel is in pain, and the streets are burning in flames in the wrath of Hamas."
Naik's message sheds light on the harrowing reality faced by many civilians, irrespective of their background. "Women, children, the old and the weak are being targeted," she observed, emphasizing the indiscriminate nature of the conflict. The actor further revealed that she faced online harassment after sharing a picture of her sister's family, demonstrating the deep-rooted pro-Palestinian sentiment that pervades social media.
The tragic story of Odaya and her family serves as a grim reminder of the brutal nature of one of the bloodiest Israel-Hamas wars in recent years. The conflict has left many children orphaned and claimed numerous lives due to relentless rocket attacks and counter airstrikes. Death, fear, and destruction cast a somber shadow over the streets on both sides of this war.
The humanitarian crisis in Gaza is exacerbated by the loss of innocent lives and the destruction of vital infrastructure. This crisis demands global attention and efforts to bring about a ceasefire and a peaceful resolution to the ongoing conflict.
On the ground, the situation remains dire, with reports of Hamas gunmen killing over 100 people in the kibbutz of Beeri alone. "They murdered in cold blood children, babies, old people—everyone," expressed Moti Bukjin, a volunteer with the charity Zaka, which recovers bodies in accordance with Jewish law.
Israel, for its part, declared that it had recaptured Gaza border areas from Hamas. Prime Minister Benjamin Netanyahu has issued a stern warning, signaling that Israel's military campaign is just the beginning of a sustained effort to eliminate Hamas and "change the Middle East."
Madhura Naik, reflecting on her own painful loss, emphasizes the need for empathy and understanding in these challenging times. She underscores the profound impact of pro-Palestinian propaganda and stresses the importance of distinguishing between self-defense and acts of terrorism.
The conflict in the region continues to evolve, with the international community closely monitoring the situation and urging both sides to seek a peaceful resolution to end the suffering of innocent civilians.