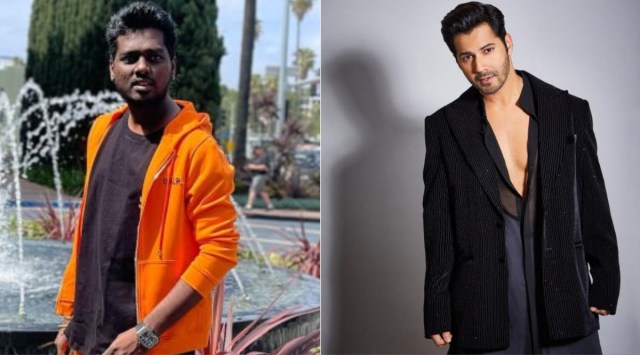 indianexpress.com
Atlee, Inspired by Shah Rukh Khan's Success, Set to Produce Varun Dhawan's "VD18"
Mumbai, India – After the resounding success of "Jawan," director Atlee is gearing up for his next venture, "VD18," starring Bollywood heartthrob Varun Dhawan. In an exclusive conversation with Indian Express, Atlee revealed that Shah Rukh Khan had been a significant source of inspiration in his journey as a filmmaker and producer.
Atlee, who recently directed the Shah Rukh Khan starrer "Jawan," shared his excitement about producing "VD18" and expressed his gratitude to SRK for his guidance. He mentioned that Shah Rukh Khan's advice had influenced his decision to take on the role of a producer in addition to being a director.
"Shah Rukh sir inspired me, not just as an actor, but also as a producer. I have learned the craft from spending four years with him. Now, I have started producing films here (Bollywood). I already produced a couple of films in the south, and now I have started producing all over — producing two in Tamil, two in Telugu, two in Hindi," Atlee stated.
"VD18" is set to be helmed by Tamil director Kalees, renowned for his debut film "Kee" in 2019. Atlee hinted that the film would be a grand-scale, mass entertainer that promises to deliver an exhilarating cinematic experience.
Regarding Varun Dhawan's upcoming film, Atlee shared, "It is going to be a mass film. Can expect the same calibration of mass to the theatre." Varun Dhawan himself has been actively promoting the film, even announcing its release date on his Instagram story – "VD18" is slated to hit theaters on May 31st, 2024.
Varun Dhawan, a versatile actor known for his dynamic roles, recently made headlines with his release "Bawaal," directed by Nitest Tiwari, which premiered on Prime Video. He has also completed work on the espionage action thriller "Citadel," alongside Samantha Ruth Prabhu, under the direction of the acclaimed duo, Raj and DK, known for their work on "The Family Man."
Atlee's "Jawan" is on the fast track to becoming a massive box office success, with Red Chillies Entertainment reporting earnings of Rs 735.02 crore worldwide. Given its current trajectory, the film is expected to join the coveted Rs 1000 crore club in the coming weeks, solidifying Atlee's reputation as a filmmaker with the Midas touch.
As fans eagerly anticipate the release of "VD18," Atlee's decision to follow in the footsteps of his mentor Shah Rukh Khan by producing and directing ambitious Bollywood projects signifies a promising future for Indian cinema.
With Atlee's proven track record and Shah Rukh Khan's guidance, "VD18" is poised to be another blockbuster that will leave audiences enthralled and eagerly awaiting its arrival in theaters.